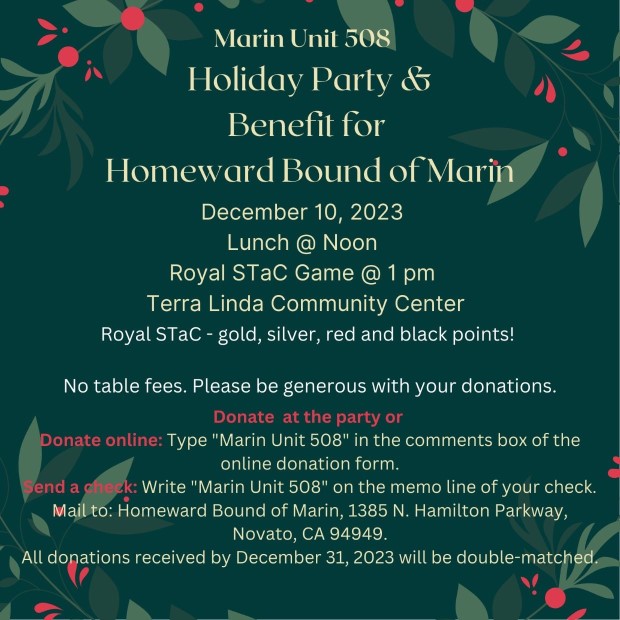 ---
We look forward to seeing you at the Holiday Party!

There will be an Open game, as well as a 499er game if there is enough attendance.
Please RSVP HERE. If you're having a problem signing up, please call TJ at (415) 246-4072 and she will put you on the list.

If you need help finding a partner, text or call Andrea Ventris at (415) 699-3175.
If you're in the mood to bring something to share (which we all would appreciate and love), please put on your baking/cooking hats, and let Cindy (415) 518-6415 know what you'd like to bring.
Most important – this is a Fundraiser for Homeward Bound of Marin.
All donations received by December 31, 2023 will be double-matched.
Donate at the party
Donate ONLINE – Type "Marin Unit 508 " in the comments box of the online donation form.
Donate by mail. Send a check and write "Marin Unit 508 " on the memo line of the check. Mail to: Homeward Bound of Marin, 1385 N. Hamilton Parkway, Novato, CA 94949.
About Homeward Bound of Marin: Founded in 1974, Homeward Bound is the main provider of emergency shelter and supportive housing for people struggling with homelessness in Marin, including veterans, seniors, families, and individuals with incarceration histories, disabilities, or serious mental illness. Its mission of "opening doors to safety, dignity, hope, and independence" is underscored by a vision that "everybody needs a place to call home."
Here is a short video about some of the wonderful work that Homeward Bound is doing. Watch HERE.