DATE:
Friday, November 22, 2019
CHECK-IN:
8:30 a.m. - 9:00 a.m.
TIME:
9:00 a.m. – Noon & 1:00 - 4:00 p.m.
LOCATION:
The Albert J. Boro Community Center (Pickleweed)
50 Canal Street,
San Rafael
Click here for a
MAP
INCLUDES:
Lite Lunch and Course Materials
COST:
$85.00
Click here for the seminar flyer
There are two steps to register. Space is limited; please register by Saturday, November 16.
STEP ONE –  Fill out the registration form below and hit "register."
STEP TWO – Payment: $85.00, includes seminar, lunch, and course materials. Please either pay via Paypal by clicking below, or mail in a check.
STEP TWO – Payment:
Option A: pay online
(Pay using your credit card by clicking "Add to Cart" below. You do not need a PayPal account to pay)
You may print out your registration and mail it in with payment if you prefer. If you include a check, please make it payable to Marin Unit 508 and mail to:
Marin Unit 508                                                                                              
70 Corte Arriba
Novato, CA 94949
Contact Info: marinbridge.events@sonic.net
Martha England – 415 388-5040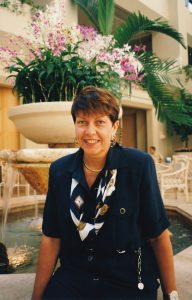 Barbara Seagram  is a Canadian bridge writer, teacher, and administrator. In addition to being recognized for her professional bridge teaching business and as co-author of twenty-eight (soon to be twenty-nine) published bridge books, she is most widely known for co-writing with Marc Smith 25 Bridge Conventions You Should Know, which received the American Bridge Teachers' Association (ABTA) Book of the Year award in 1999. It has been named the top selling bridge book of the last 50 years.